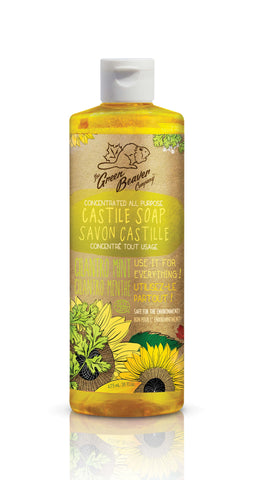 Green Beaver Sunflower Castille Cilantro Liquid Soap
Green Beaver sunflower soaps are authentic Castile-type soaps, made from the traditional method of using plant oils. Green Beaver chose to make their Castile soaps using locally harvested organic sunflower seed oil instead of the olive oil that is traditionally used in Castile soap recipes. Sunflower oil is rich in antioxidants like vitamin E and carotenoids, and it is blended it with coconut oil for a gentle, silky lather that leaves your skin feeling fresh and soft. It's so pure, you can use it to bathe in lakes and rivers!
INGREDIENTS
Water, Potasium Cocoate** (saponified organic coconut oil), Potassium Sunflowerate** (saponified organic sunflower oil), Helianthus Annuus (Sunflower) Seed Oil*, Coriandrum Sativum (Coriander) Oil*, Eucalyptus Globulus Oil*, Mentha Piperita (Peppermint) Oil*
*Ingredients from organic farming
** Made using organic ingredients
100% of the total ingredients are from natural origin
29.5% of the total ingredients are from organic farming
DIRECTIONS
Green Beaver liquid sunflower soaps are concentrated. You may want to use full strength or dilute it with water depending on your usage.
Body Wash: Use a couple of drops directly on a cloth or fill a bottle with 2 parts soap and 1 part water.
Hand Soap Dispenser: Refill your dispenser with 1 part soap and 3 parts water.
Veggie Wash: Add 1 tablespoon castile soap to 2 cups of water, and spray on your fruits and veggies.
Dish Soap: Simply squirt half of what you would normally use with conventional dish soap directly into the sink.
Floor Cleanser: Use 2 or 3 tablespoons of soap in a full bucket of water and mop your floors to a sparkly new lustre.
Tile, Tub or Stovetop Scrub: Fill a spray bottle with 1 part soap and 3 parts water. Sprinkling a liberal dusting of baking soda to the area you wish to clean then spray the soap solution over the top. Scrub away !
Laundry detergent: Re-use an old laundry soap container and fill it with 2 Litres of hot water, ½ cup of soap, 1/3 cup of baking soda and 1/3 cup of coarse salt. Use ½ to 1 cup per load depending on the level of desired strength you need.
---
We Also Recommend